West Berkshire Council u-turn over homeless beds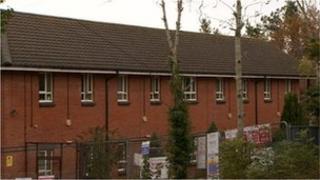 West Berkshire Council has reversed a pledge to offer more help to the homeless this winter after people not from the area "crowded out" locals.
The authority had promised that no-one needed to sleep rough from November until the end of January.
Campaigners say that those in need are now being turned away, even though there are empty hostel beds.
The council says it may bring back the policy but only for people who can prove a connection to west Berkshire.
West Berkshire's severe weather emergency protocol (SWEP) states that if there are three consecutive nights of freezing temperatures, homeless people will be given a bed.
This winter, the council said it would extend that policy.
It said in October: "Anyone who sleeps rough can access emergency accommodation from the beginning of November through to the end of January, regardless of the temperature."
'Mistake in hindsight'
But the council has now reverted to the original scheme.
Annabel, who is homeless in Newbury had spent several nights at Two Saints hostel in November, but at the weekend she was told the rules had changed and she had to move out.
"It's like moving the goalpost," she said.
Councillor Roger Croft said: "At the time we said 'anyone'. In hindsight it's a mistake.
"What's happened is people have come from all over really, as far away as Birmingham, Bracknell, Basingstoke.
"This has placed considerable strain on the limited resources that are available.
"I think it was very naive of me, I make no apologies about that.
"The three previous years we have run an extended provision and unfortunately this year people have taken advantage of it and it has crowded out rough sleepers of west Berkshire."
Ian Howgate, of Christian charity Proverbs 31, which tries to help homeless people when they have been turned away said: "The number of people of this nature who go out on the streets, then end up with pneumonia and end up in hospital.
"A five-week stay in hospital trying to cure their pneumonia costs vastly more than it would have cost to accommodate them in the first place."