Reading families have mail suspended for seven months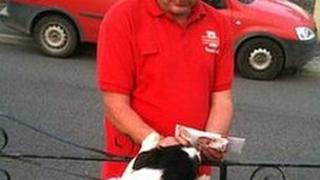 Forty families in Reading have not had post for seven months because of a safety dispute with Royal Mail over an "aggressive dog".
Mail is not being delivered to three streets in Whitley because a dog allegedly bit a post worker in June.
Pensioner Marcella Kelly of Blythe Walk, who has to collect her post from the depot by bus, said it was "just shameful the way this has gone on".
Royal Mail said it was considering installing post lockers in the area.
'Permanent injury'
Mrs Kelly said there were "a lot of pensioners" in the area affected, some of whom had missed hospital appointments and would not be able to receive Christmas post through their doors.
She added: "[Royal Mail] keep saying their priority is the postmen's safety which is fair enough, but I think it's about time they think about us now."
Royal Mail said there had been more than 5,500 attacks on postmen and women in the UK since April 2011, "some leading to a permanent disabling injury".
A spokesman apologised for the inconvenience and said it would arrange a meeting with Reading Borough Council and local residents to "establish a permanent solution to this issue".
Options include placing locker boxes in the area from which residents could collect mail, or a system to establish times of day when postal workers are able to deliver safely.