Reindeer escapes from Newbury Christmas Market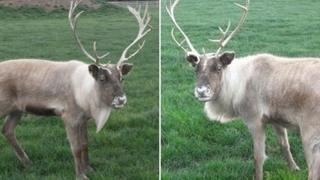 A Christmas market cancelled the appearance of its reindeer after one escaped to take a tour of Newbury.
Humbug and Cracker were due to make their debut in the town on Saturday - before Humbug made a dash for it and jumped free of his enclosure.
He was then spotted running towards a local supermarket before being caught by police in an office car park.
Both animals have now been returned to their herd. Visitors are instead being offered festive donkey rides.
Market spokesman Nick Houghton said they had been returned to Blithbury, Staffordshire for their "own safety and wellbeing".
"Our two reindeer, Cracker and Humbug were scheduled to make their debut appearance at this year's Newbury Christmas Market," he said.
"However, Humbug made a dash for it and managed to escape the enclosure, then proceeded to head up the A339 towards Sainsbury's and past the local police station where several officers and his handler managed to catch up with him in a local office car park.
"He was briefly detained by police for questioning before being reunited unharmed with Cracker."
Mr Houghton said the market hoped the reindeer would be back for Christmas 2014.
Humbug made the escape from Victoria Park on Friday. Newbury Christmas Market opened on Saturday.