Wokingham A329M street lights 'at risk of collapse'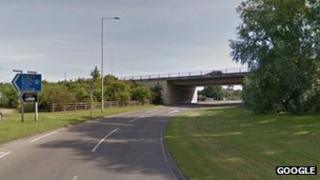 Several street lights on a major road in Berkshire are "at risk of collapsing", according to a council.
Wokingham Borough said safety measures had been put in place on A329M, above the Coppid Beech roundabout, after one recently fell into safety barriers.
It added tests had shown five more to be in a "deteriorated state" and said they would now be replaced.
Councillor Keith Baker said "dangerous elements" of the units had already been removed as a precautionary measure.
Mr Baker, executive member for strategic planning and highways, added: "Lighting on the bridge is installed differently to the rest of the A329M, and as such, it is only this section that is affected."