Prudence Kitten puppet sells for £2k at auction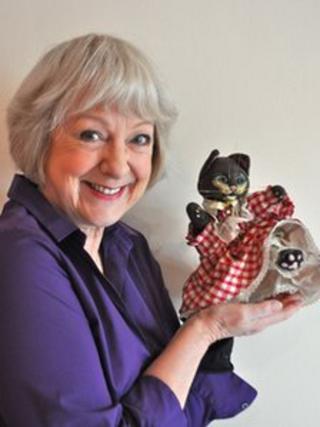 A kitten puppet which starred in a 1950s children's television series has sold at an auction in Newbury for £2,124.
Prudence Kitten was created for the BBC by Annette Mills - best known for her partnership with Muffin the Mule.
After Annette Mills' death in 1955, her daughter Molly Blake took over performing with Prudence.
Only one Prudence Kitten puppet was ever created for TV. It was passed on to Annette Mills' grandchildren.
Pipe-smoking cat
The puppet was sold to an "individual who was a big Prudence Kitten fan as a child," according to auctioneer Daniel Agnew, of Special Auction Services in Greenham Park.
Included in the sale was Prudence's sister, Primrose and her brother-in-law Nelson, a pipe-smoking merchant seaman cat, as well as scripts, press photographs and props from the TV show.
Mr Agnew said: "Prudence isn't quite as well remembered as Muffin the Mule.
"A Muffin the Mule puppet would sell for tens of thousands of pounds."
Annette Mills' younger brother was the actor Sir John Mills and her granddaughter is the actress Susie Blake.
She was the aunt of actresses Hayley Mills and Juliet Mills.