Colin Campbell sentenced to life for Claire Woolterton 1981 murder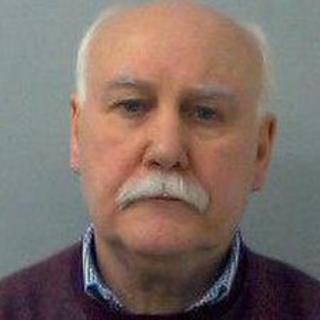 A convicted killer has been sentenced to life in prison for murdering and mutilating a 17-year-old girl in 1981.
Claire Woolterton's naked body was found by the River Thames in Windsor. She had been sexually assaulted and her throat was cut.
Her murderer Colin Campbell went on to kill Deirdre Sainsbury in 1984, for which he is serving a life sentence.
Advances in DNA analysis helped convict Campbell, 66, of Miss Woolterton's murder 32 years after her death.
The jury of four men and eight women at Reading Crown Court had been deliberating since Friday morning before convicting Campbell of murder by majority verdict.
He was given a life sentence and must serve a minimum of 24 years, concurrent to his current sentence.
'Very precious'
The former travelling salesman, who lived in Acton, west London, at the time of the murder, told the court he could not remember the events of August 1981 or if he had ever met Miss Woolterton.
Miss Woolterton's stepfather Terry Pearce described her as a "lovely girl", who was "very precious" to the family.
He said: "This feels as raw as it did 32 years ago.
"Claire was a hard-working girl, who was very kind and would always help people.
"She'd speak to anybody who needed help and did whatever she could for them.
"Claire's murder had a shocking and distressing permanent effect on our lives.
"We have been emotionally scarred for life and have a very cynical outlook to life now.
"Claire went out to meet some friends and never came home. We never had the chance to say goodbye.
"We are left with a sense of complete helplessness when we think about the absolute terror and suffering that Claire had to endure at the hands of this ruthless man.
"What must have been going through her mind? This will haunt us forever.
"Colin Campbell's evil and terrible act devastated our lives and left us wondering who was responsible for over 30 years."
Nobody was arrested or charged with Miss Woolterton's murder during the original investigation.
Picked up hitchhiking
Thames Valley Police reopened the case in 2011. Scientific advances meant it was possible to find evidence of Campbell's DNA profile from adhesive tapings taken from Miss Woolterton's body.
When asked why his DNA had been found on Miss Woolterton's body, Campbell could not explain how it might have happened.
By 2011, Campbell was serving a life sentence in prison for the manslaughter of Miss Sainsbury, from Greenham, in December 1984.
She was picked up in Campbell's car while hitchhiking on the South Circular Road in Roehampton.
The 29-year-old's mutilated body was found close to Denham Golf Course the following morning.
He was convicted of her murder in 1985. However, his conviction was downgraded to manslaughter on appeal in 1999 after he successfully argued his epilepsy had led him to carry out the frenzied attack.
By 2011, he had been downgraded to a Category D prisoner status and was being allowed out into the public on licence for five days every month, before he was arrested over Miss Woolterton's death.
Miss Sainsbury's family said: "We all still think of Deirdre every day and this trial has brought a lot of the emotions back for us, which were felt when Campbell was tried for his crime all those years ago.
"Our family would like to extend its deepest sympathy to the relatives of Claire Woolterton and we are pleased their long wait for justice is finally over.
"Colin Campbell is a dangerous individual who cut short the lives of two young women in their primes and has never accepted any responsibility for his actions."
Pete Beirne, the principal investigator when the case was reopened, said: "What we've managed to achieve today obviously won't bring Claire back, but hopefully it's a small comfort to [her family] that Campbell has been in custody since 1984."
High Court Judge Mr Justice Spencer warned Campbell he was "unlikely" ever to be released from jail after imposing the life sentence on the convicted killer.