Royal Berkshire Hospital rated fastest for heart attack treatment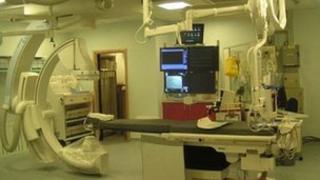 A Berkshire hospital has been rated the fastest for treating heart attack patients in England and Wales for the second consecutive year.
Royal Berkshire Hospital saw more patients within two hours of receiving a call than any other unit.
Figures from the National Institute for Cardiovascular Outcomes Research show 90% of patients underwent surgery to clear a blocked artery in that time.
The average figure in its report, for April 2012 to March this year, was 59%.
Last year, figures from the Department of Health showed 90% of patients at the 24-hour centre in Reading were treated within two hours.
'Best survival chance'
Primary angioplasty is the procedure carried out on heart attack patients at the hospital which involves inflating a tiny balloon in a patient's heart to reopen a blocked artery.
A metal tube, called a stent, is then inserted into the artery to keep it clear.
Consultant cardiologist Dr Will Orr, a member of the 160-strong cardiac team at the hospital, said the procedure provided patients with "the best chance of survival" as long as it was delivered quickly.
Between April 2012 and March this year, 186 people suffering from heart attacks received primary angioplasty at the hospital - an increase of 19 on the previous 12 months.
The hospital highlighted South Central Ambulance Service as "key" to its success.