Human chain against Botley West Way shopping centre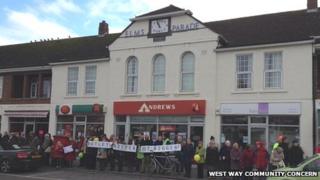 Protesters have gathered to show their opposition to a planned £100m retail development in Oxfordshire.
More than 500 people formed a human chain at the site of the proposed complex at West Way in Botley.
The plans include a six-screen cinema, supermarket and restaurants, but campaigners oppose the demolition of Elms Parade shops.
Developers Doric Properties said the scheme was necessary to stop people from shopping away from the town.
The West Way Community Concern group formed a "hands around Elms Parade" human chain around shops threatened with demolition.
A fund created to fight the plans has raised almost £2,000 in the past week.
Campaigner Chris Church described the existing 1930s-built shops at Elms Parade as an "important part of Oxfordshire's heritage"
"This is not just about buildings, this is about the future of our community. At the moment we have an attractive place which people feel is at the centre of their neighbourhood and they've turned out to show they care about its future."
Plans for the site, near Oxford University colleges and Oxford Brookes University, also includes accommodation for 600 students, with a stipulation that students do not drive to and from the site.
Simon Hollcox of Doric Properties said "Whenever things change they are controversial. The key statistic here is 70% of people who live locally do their main shopping elsewhere."