Claire Woolterton murder: DNA caught Colin Campbell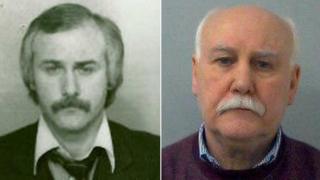 Travelling salesman Colin Campbell thought he had got away with the violent, frenetic murder and mutilation of a teenage girl in 1981. But, the reopening of a police "cold" case 30 years later would eventually see him brought to justice.
Key to the 66-year-old west Londoner's conviction were advances in forensic analysis and DNA profiling, the like of which were unimaginable to crime scene investigators in August 1981.
That was when the mutilated body of teenager Claire Woolterton was discovered on a promenade in Barry Avenue by the River Thames in Windsor.
After Campbell picked her up as she walked home alone, the 17-year-old was sexually assaulted and had her throat cut.
Her partially naked body was left face down where it was found by a Windsor commuter at first light.
During his trial at Reading Crown Court, the jury heard Campbell did not feature in the original investigation.
But evidence taken at the time and stored in police archives would eventually build a DNA profile against him.
When the case was reopened in 2011, Campbell was a convicted killer serving a life sentence for the manslaughter of Deirdre Sainsbury, from Greenham, in December 1984.
Prosecution counsel Peter Wright QC told the jury the 29-year-old's killing bore strong similarities to that of Claire's.
Miss Sainsbury had also been picked up in Campbell's car while hitchhiking on the South Circular Road in Roehampton, within miles of the last sighting of Miss Woolterton.
'Void between events'
After driving her to nearby Hayes, Campbell strangled Miss Sainsbury before dumping her mutilated body near a golf course in Denham, west London.
Campbell was subsequently arrested and charged. He was also questioned about Claire Woolterton's murder, but denied any involvement.
Pete Beirne was the principal investigator of Thames Valley Police's Major Crime Review Team when the case was reopened in 2011.
He had also been involved in the original investigation as a detective constable.
"We're talking pre-DNA in terms of what was available to the senior investigating officer in 1981," he said.
"These were also the days before CCTV and mobile phones. So all investigators had was a body dumped in Windsor with the last confirmed sighting the night before in Hanwell.
"There was a void between those two events."
Thirty years later, small strips of adhesive tapings, about two-inches thick, daubed on the body of Claire by scene of crime officers to remove potential fibres, became key to the reinvestigation.
'One in a billion'
It came at a time another Berkshire "cold case" was yielding similar results.
Last July, David Burgess was convicted of the murder of teenage nanny Yolande Waddington in Beenham in 1966.
Burgess' trial, 46 years after the murder, contained evidence obtained through advances in DNA analysis.
"We asked for certain exhibits seized in the original investigation (into Claire Woolterton's death) and now stored on file to be re-examined," Mr Beirne said.
"We knew from other investigations nationally that potentially they could provide critical evidence.
"What we found was a DNA profile matching that already on record for Colin Campbell.
"Scientists who then examined the evidence stated there was a one in a million chance of it being anyone else.
"Those results were then further analysed by a professor of statistics from University College London (UCL), who stated in his opinion there was a one in a billion chance of it being someone else."
Last November, police arrested and charged Campbell with Miss Woolterton's murder.
His defence centred around his condition as an epileptic. He argued he was not in control of his faculties and could not recall the events of August 1981.
"He hasn't denied being responsible, he just states he cannot remember if he did or didn't do it," said Pete Beirne.
"To my mind, as a layperson, it's difficult to understand how someone could not remember doing something so horrific."