Oakley Court 'Hammer horror castle' hotel sold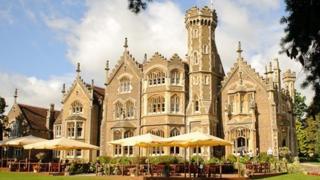 A gothic country house in Berkshire that was used as a set for Hammer horror films has been sold.
Oakley Court in Bray was also used as Frank N Furter's castle in The Rocky Horror Picture Show in 1975 and in The Belles of St Trinian's in 1954.
The former private residence, now a hotel, was a popular film set because of its close proximity to Bray Studios.
Selling agent Julian Troup, of Colliers International, said the hotel had been sold for an undisclosed sum.
He added the hotel had "generated unprecedented interest" from "around the globe" and "a considerable number of offers".
The property was put up for sale by Oakley Court Hotel Ltd in July after it went into administration.
The house was built in 1859 for Sir Richard Hall Say, who became the High Sheriff of Berkshire in 1864.
Although built in the Victorian period, its gothic architecture made it a popular film set for the Hammer horror films, which were produced at Bray Studios near Maidenhead.
The main entrance was used as the entrance to Castle Meinster in The Brides of Dracula in 1960, the house became Hamilton Manor in The Plague of the Zombies in 1966 and a school for girls in Nightmare in 1962-3.
More recently it was home to several members of Team GB during the London 2012 Olympic Games.