Maidenhead mosque graffiti man Lee Hunt writes apology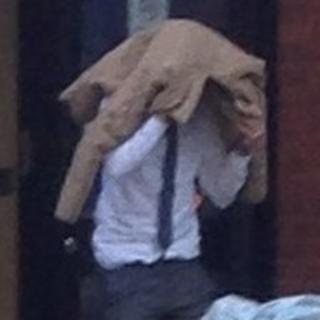 A salesman wrote to worshippers at a mosque to apologise for spray painting racially offensive graffiti on its outside wall, a court has heard.
Lee Hunt, 26, a Sunday league footballer, had been out drinking with a team-mate when they targeted the mosque in Maidenhead on 8 June.
He must now do 300 hours of unpaid work after being convicted of two counts of racially aggravated criminal damage.
Gary Nuth was ordered to do 270 hours of unpaid work earlier this month.
He had admitted the same two counts, along with criminal damage and theft, at a previous hearing.
Compensation
Reading Magistrates' Court heard how the pair stole paint from a nearby builder's yard before writing offensive words on the wall of the Holmanleaze mosque, a nearby house and on the road.
Hunt, of Lincoln Road, Maidenhead, denied the charges, which also included criminal damage and theft, but was convicted following a trial.
He must complete his unpaid work within 12 months was also ordered to pay £750 costs, £300 compensation and a £60 victim surcharge.
Nuth, 23, of Blackamoor Lane, Maidenhead, was ordered to complete 270 hours unpaid work and made subject to a supervision order.
He was also ordered to pay £500 costs, £150 compensation and a £60 victim surcharge.