MP calls Reading Crossrail current plans 'little or no use'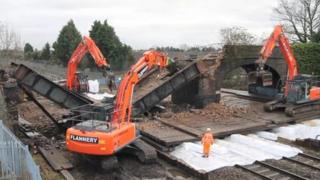 Plans to extend Crossrail to Reading "are of little or no use", one of the town's MPs has said.
Rob Wilson said the metro link from Reading to London would be double the journey time offered by First Great Western's current service.
The Tory MP is in talks with Crossrail Minister, Stephen Hammond, about also offering "semi-fast services".
The Department for Transport (DfT) said it was "carrying out a further detailed evaluation of the proposal".
No toilets
The £14.8bn rail link is set to open in 2018 and will provide an east-west route across London and the South East.
Both Transport Secretary Patrick McLoughlin and shadow infrastructure minister Lord Adonis have called for an extension to Reading.
But Reading East MP Mr Wilson said the current proposals were "highly unsatisfactory" and "inappropriate" for Reading commuters.
He said the main sticking points were the hour-long journey time - compared with First Great Western's 30-minute service - and the "Tube-style trains" which do not offer toilets, catering or "comfortable seats from which to work".
He is proposing semi-fast services of about 40 minutes a few times per hour to be competitive with First Great Western.
The DfT, responsible for the rail extension, said: "Work to evaluate the proposal will be concluded in the early part of 2014".