Legoland Windsor promises to ease traffic congestion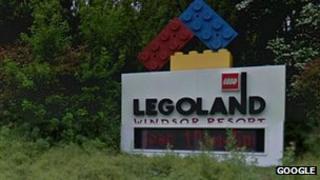 The Legoland theme park in Berkshire has promised to implement measures to ease traffic congestion.
Royal Borough of Windsor and Maidenhead Council and local residents have complained about roads around the attraction being blocked.
The park has pledged to change staffing, communication and traffic management systems.
The council said it welcomed the measures but wanted to see the park limit daily visitor numbers.
More than 2 million people visited the park, owned by Merlin Entertainments, in 2012.
On 31 May this year, drivers were stuck in traffic around the park for several hours after it reached capacity.
'Significant difference'
A Legoland spokesman said that in future, the park would dedicate more staff to traffic issues, as well as improve social media alerts and the use of targeted promotions.
He said a park-and-ride shuttle bus service from local hotels was also planned and a trial would be run with the Highways Agency to encourage people to use alternate routes between the M4 and the park.
General manager Sue Kemp said the measures would make a "significant difference".
Geoff Hill, the council's lead member for transport, agreed the measures would improve the flow of traffic and take vehicles off the road "which we are keen to do".
However, he said he was "very, very keen" on having all visitors required to book tickets in advance to allow the park to limit daily numbers.
Ms Kemp said there were not plan to make all tickets pre-booked, but added that only 5% of visitors currently turned up without tickets.