Gurkhas march on Whitehall as hunger strike continues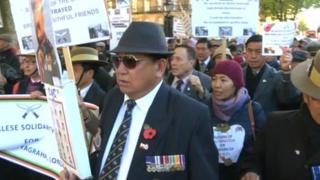 Around 1,000 former Gurkhas have marched on Whitehall where a veteran from the Nepalese Brigade has been on hunger strike since 7 November.
Berkshire-based Gyanraj Rai, 55, has threatened to starve himself to death as part of their campaign for improvements in their pensions.
The MoD says conditions of service have always been fair, reflecting the environment Gurkhas live in.
The demonstrations coincided with elections in Nepal.
The MoD added: "They have changed and improved over time to reflect the Gurkhas' changing circumstances.
"Gurkhas have served this country with great loyalty and distinction over the years. However, the MoD does not recognise the claims that the Gurkhas have been discriminated against during their service."
Currently ,Gurkha veterans only get a third of that received by their former British comrades.
Campaigners say changes to veterans' payments would allow many elderly ex-soldiers to return home to Nepal.