Lord Adonis joins Crossrail extension to Reading call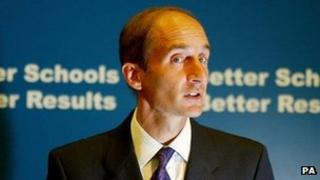 A former transport secretary has joined calls to extend Crossrail to Reading.
Lord Adonis told BBC Radio Berkshire it would be "well worth Crossrail and the Department for Transport looking at the case for extending the line".
The £14.8bn rail link connecting Berkshire and Buckinghamshire to Essex and Kent via London and is currently planned to finish in Maidenhead.
Reading Borough Council has also put its case for an extension to the Department for Transport.
Crossrail is set to open in 2018 and will provide a key east-west route across London and the South East.
Shadow infrastructure minister Lord Adonis felt current improvements to lines out of London Paddington made the case for an extension to Reading.
He said: "Currently, commuters from Reading will have to change trains at Maidenhead to use Crossrail.
"But, since it was agreed, a decision has been taken to electrify the Great Western Main Line to Reading and beyond.
"Therefore, the cost of extending Crossrail services has fallen dramatically.
"It would make more sense to do that now rather than place all the turn-around facilities in Maidenhead and then make a decision to move them to Reading in a few years.
"I'd like to see an assessment by both Network Rail and the Department for Transport as a matter of urgency."
The first completed tunnel on the project has been unveiled. A 4.25 miles (7km) section between Royal Oak and Farringdon in London was completed in an 18-month operation.