Dorset school children are bussed half a mile to school costing £250 a day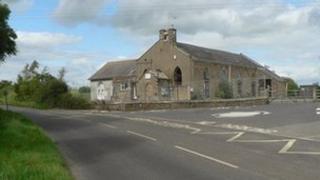 Parents of pupils at a school in Dorset say they are "embarrassed" that their children have to take a half-mile bus journey to classes.
Salway Ash Primary School lies 0.5 miles (800m) outside the village, but the county council says the road linking the two is "unsafe".
A school bus service started this term, which takes children on the four-minute journey, at a cost of £250 a day.
The school says it has been campaigning for a footpath for more than 20 years.
Parents say they would love their children to walk to school and that their school bus is "unnecessary" and a "poor use" of taxpayers' money.
'Unacceptable'
Head teacher Lisa Crewe said children being forced to commute in on a four minute ride was "mad".
"It's a very sad state of affairs," she said.
"People want their children to walk, we want children to be able to walk to their local school and it's just not possible."
The road leading to the school was declared unsafe in March following a safety audit by Dorset County Council.
The new school bus started in September.
Toni Coombs, Dorset County Council Cabinet member for education, said: "We decided that until we can find a permanent solution we have introduced a school bus to ensure the safety of the children, as it was unacceptable for them to walk along the road to school."
Dorset County Council said it was "actively pursuing" a new footpath, but did not own the land on the verges of the road, and was in talks with landowners.