Future of Bracknell 3M building out to consultation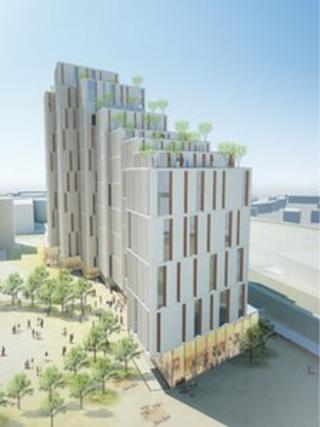 Plans for an "incredible" landmark building in Bracknell will go out to public consultation.
Bracknell Forest Council said it was consulting on plans for the site of Winchester House, the derelict 3M building which still houses a market.
The consultation will seek public input on three options.
One option could lead to the offices being knocked down by November 2014 and a new £50m building built housing 300 flats, restaurants and shops.
A second option would see the former office building and its market kept as it is.
The third would see the building demolished and rebuilt and the indoor market moved to an outdoor location.
Bracknell Forest regeneration councillor Marc Brunel-Walker said: "It will be an amazing sort of staggered building it will be an incredible landmark building for the town centre.
"We will take one iconic building and I hope replace it with something as iconic."
Plans have been in place to regenerate Bracknell since 2002.
The consultation on the council's proposals opens on Monday.