Claire Woolterton 1981 murder: DNA led to Colin Campbell arrest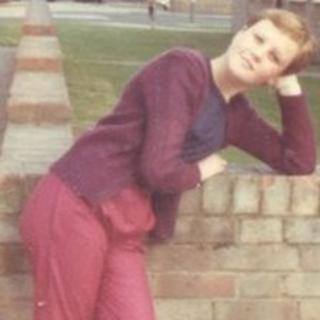 A DNA match led to the arrest of a convicted killer in connection with the murder and mutilation of a teenage girl in 1981, a court has heard.
Colin Campbell, 66, who is already serving a life sentence for the manslaughter of Deirdre Sainsbury, denies murdering Claire Woolterton.
The 17-year-old's naked body was found by the River Thames on Barry Avenue in Windsor, Berkshire.
Reading Crown Court heard she had been sexually assaulted and her throat cut.
Opening the prosecution's case, Peter Wright QC described how Claire's mutilated body was found lying face down by a member of the public on 28 August, 1981.
'Inevitably distressing'
He said the teenager had been initially attacked at another, unknown, location and was found to have signs of being partially asphyxiated and rendered unconscious.
He told jurors, who were shown photographs of the teenager's body, they would hear evidence "inevitably distressing and unpleasant to receive by way of detail".
Mr Wright told jurors that although DNA comparison did not exist at the time of the initial police investigation, an "adhesive tape lift" had been used on Claire's skin.
It was then stored by police for 30 years until the case was reviewed in 2011.
He told jurors they would hear evidence from one scientist who found that DNA discovered was "one million times more likely to have been obtained from Colin Campbell", while another found it "one billion times more likely".
The court heard that Claire, who lived in Northolt, north west London, was last seen alive at around 22:00 BST on August 27 1981, walking towards Hanwell after spending the evening in Ealing with the older married man she was seeing.
Mr Wright went on: "On this night, she and he having had a disagreement, she decided to make her own way home,
"It was a journey, sadly, that she did not complete."
Mr Wright told the court Campbell previously pleaded guilty the manslaughter of hitchhiker Deirdre Sainsbury on the grounds of diminished responsibility, having killed the 29-year-old in December 1984.
Her body was found in a wooded area of Denham Golf Course in Buckinghamshire, after Campbell picked her up in his car in Upper Richmond Road, Roehampton, on the evening of 22 December.