Reading Cow Lane closes for railway viaduct upgrades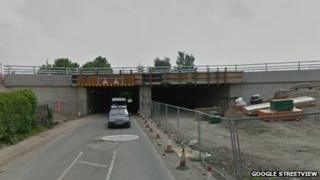 A busy route through Reading will close overnight to allow work to take place on a new railway viaduct.
Cow Lane will close between 23:00 and 05:00 GMT each night from Sunday until Thursday. The same closures will also be in force from next Sunday.
Network Rail has warned there will be some noise and light generated by the work which forms the latest phase of track improvements around Reading.
The new viaduct will help remove a bottleneck on the Great Western line.
The work is separate to that which saw a second bridge on Cow Lane demolished and rebuilt over Christmas 2011.
Kevin Brown from Network Rail said: "We've got to demolish the remainder of an old bridge we started taking down earlier this year and start work on a new viaduct.
"The track layout to the west of Reading station is changing to take one set of track over the top of the other.
"That will allow more trains to use the station and make use of new platforms, as well as cutting delays as trains arrive from the west."
Trains are set to run on the new viaduct from January 2015.
During the work, Cow Lane will be closed to traffic between Cardiff Road and Portman Road roundabout.