Network Rail warning after woman crosses rail tracks in Reading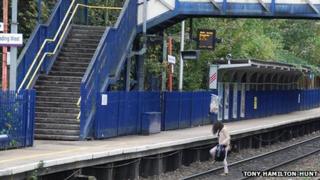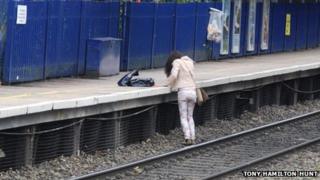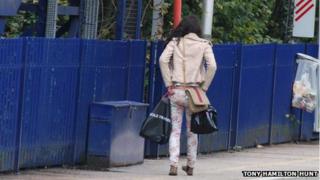 A warning has been issued to rail users after a woman was photographed crossing the tracks in Berkshire, seemingly avoiding the footbridge.
The woman, who appears to be carrying shopping bags, was snapped at Reading West station on Thursday.
Tony Hamilton-Hunt, who took the pictures, said "one minute later" a train "came whizzing through".
Network Rail has urged people to use footbridges and report trespassing on the railway to police.
Mr Hamilton-Hunt, from Farnborough, described the perpetrator as "a well-dressed woman in her 30s carrying three shopping bags".
In a statement, Network Rail said: "If anyone spots someone trespassing on the railway they should get in touch with the British Transport Police as it is a crime.
"Clearly there is a footbridge at Reading West which provides a safe way to cross the railway and people should use that."
A British Transport Police spokesman said the incident was not reported to them, but they were now investigating after being made aware of the photographs.