Heathrow Gateway development dubbed 'Coln Henge'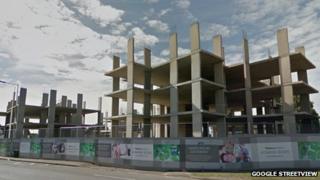 A development that remains unfinished five years after work started has been branded "Coln Henge" because of its resemblance to standing stones.
The Heathrow Gateway development in Colnbrook, Berkshire, included 58 flats with parking, gardens and a gym.
Work stopped in 2008 after builder, Rigsby New Homes Ltd, went into liquidation.
The site's current owner, Robin Ellis said he hopes work will resume as soon a new planning application is approved.
Mr Ellis believes the incomplete structure does not need to be knocked down, but he would not commit to a timescale for the residential development to be completed.
'Landmark site'
He said the new plans would "be submitted as soon as is feasibly possible".
Chairman of Colnbrook with Poyle Parish Council, Peter Hood, called the former garage by the A4 roundabout on London Road "a landmark site".
He said: "People who have driven past it for many years have grown sad of seeing it in the state it's been left.
"I'd like to see a project completed there and with the recent upturn in the property market, I'm sure it will ultimately be finished."
Slough Borough Council, which approved the original planning application for the site, was unavailable for comment.