Sheep blamed for grave damage at Grazeley churchyard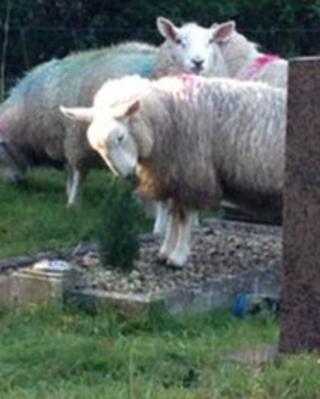 A flock of sheep has been blamed for destroying flowers and cards left by relatives in a graveyard in Berkshire.
The sheep were introduced to keep grass short in Grazeley churchyard, near Reading, but visitors say personal items have been eaten.
Vic Jerrom, who has ancestors buried in the graveyard, described the damage as "very disrespectful".
The Reverend Chris Leslie said the sheep were a "traditional way of managing churchyards".
Mr Jerrom said money should have been set aside for the graveyard's upkeep.
"It's a mess," he said. "The sheep are grazing on the graves and of course there is sheep droppings everywhere.
"It's despicable."
Mr Leslie declined to reveal the ownership of the sheep.
'Chewing at will'
"There is no source of income for mowing of the churchyard and the use of sheep in this way keeps the grass short," he said.
One villager whose mother and grandmother are buried in the graveyard, said it was "distressing" for those grieving.
She said: "There's 10 sheep stood on graves chewing at will."
Another villager said she was "devastated" to find the sheep during a visit on Monday.
"The condition is awful - basically they've ruined all the flowers and bent forward one of the headstones," she said.
"There is a lot of debris over the graves."
Holy Trinity Church was last used in 2006, although burials still take place in the churchyard.
Grazeley Parochial Church Council, which manages the churchyard, said it could not afford to employ someone to mow the lawn.