Marlow Rowing Club boathouse demolition begins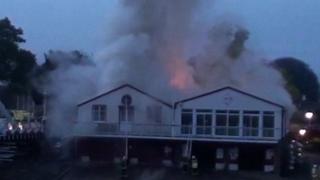 Demolition work has begun on a fire-damaged rowing club boathouse where five-time Olympic champion Sir Steve Redgrave started his career.
Marlow Rowing Club, on the Berkshire side of the River Thames, was damaged in a blaze in August 2011.
A new £2.5m structure is set to replace the building in July.
The demolition, which is expected to take up to 45 days, was delayed by asbestos removal, gas safety checks and strong winds earlier in the week.
The club has received a £1m National Lottery grant and also raised £1.35m towards the cost of the new clubhouse.
Sir Steve will host a president's dinner in Marlow on Friday as the club looks to raise the final £150,000.
Club spokesman Lynne Moran said: "We had to postpone the arrival of a crane on Monday when storm-force winds for the south of England were forecast, but the picture looks better for the days ahead.
"Surprisingly, the building held firm in the storm despite some people thinking it might sustain some damage."
The fire destroyed 60 boats and some of the club's treasured memorabilia when it took hold.