'Turpin pub' in Hurley given community asset listing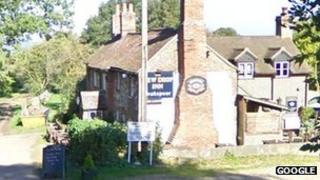 A 17th Century public house, said to have been used by highwayman Dick Turpin, has been given a level of protection by a Berkshire council.
The Dew Drop Inn has been listed as an asset of community value by the Royal Borough of Windsor and Maidenhead.
It means residents and community groups in Hurley will have a say on its future if its owners put it up for sale.
Dick Turpin was said to have visited the watering hole in the 1720s and 30s on his trusty steed Black Bess.
Under the Localism Act of 2012, The Community Right to Bid scheme gives local groups the opportunity to nominate assets they believe are of social and cultural value for protection.
The pub was nominated by the Burchetts Green Village Association which will have six months to bid to buy the public house, should it be put up for sale by current owners Brakspear.
Councillor George Bathurst, Cabinet member for policy and performance, said: "The Dew Drop Inn has a long history, including an association with one of England's most notorious highwaymen that cements its place in Hurley's social and cultural heritage."
Brakespear welcomed the listing and insisted it had "absolutely no plans" to sell the pub.
Chief executive Tom Davies said: "It is good that communities are standing up for their pubs but I wouldn't be surprised if many of the people who supported this motion do not use the Dew Drop on a regular basis.
"To keep these types of pubs viable communities need to turn this passion into actual pub sales, a Christmas day drink is simply not enough to keep these pubs alive."