Sonning Bridge closed during daytimes for repairs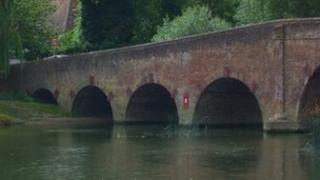 Sonning Bridge in Berkshire will be shut during off-peak hours for two weeks while urgent structural repairs are carried out.
Drivers will have to find other routes across the Thames between 09:30 and 16:00 GMT after engineers found weaknesses in the bridge.
It will remain open outside these hours and at weekends.
Sonning Bridge recently featured in headlines after a postbox mysteriously appeared on one of its buttresses.
The red letterbox will be removed from the 16th Century crossing when protective barriers are installed and a traffic light system is improved.
The person responsible for placing the postbox on the bridge has not come forward.
Storms delay
Work on the Grade II-listed bridge, which carries 16,000 cars a day, will also include footpath lighting improvements.
It was due to start on Monday, but Wokingham Borough Council postponed it after overnight storms caused disruption on surrounding roads.
Councillor Keith Baker, executive member for strategic planning and highways, said: "Unfortunately, due to the nature of the works, the restricted space available, and for our contractors to operate in a safe and proper manner, it will be necessary to maintain a partial closure of the carriageway and bridge during the construction period.
"We apologise for any inconvenience that these works my cause, especially to those businesses that maybe affected by the works.
"However we would ask you to please bear with us whilst we complete these essential works."
He said the upgrade should be completed by 19 November and closure timings might be adjusted if too much disruption was caused.