Berkshire homes evacuated as storm fractures gas pipe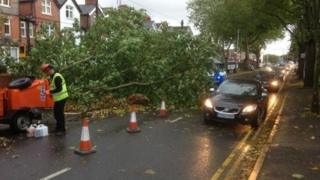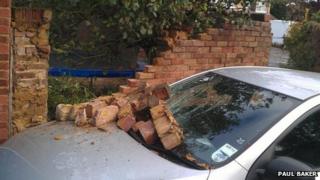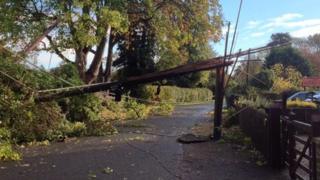 Homes were evacuated after a gas main was fractured by a fallen tree during overnight storms.
About 40 properties were emptied in the Calcot area of Reading after damage was reported at 07:20 GMT. Firefighters enforced a 560m (1,830ft) cordon while engineers carried out repairs.
Fallen trees blocked a number of roads including Reading Bridge in Caversham.
The bridge was closed when trees blocked both ends just after 06:30 GMT, but reopened just before 09:30.
Royal Berkshire Fire and Rescue said it received more than 50 calls about storm damage overnight.
Two polo ponies were rescued from their stable block when a tree crashed on to its roof.
The animals were unhurt and crews from Wokingham managed to cut them free from the stable at Billingbear Farm in Binfield, near Bracknell.
Carol Cox's husband Doug had a lucky escape when he narrowly avoided being hit by an oak tree.
She said: "He had been called out early this morning to Heatherwood Hospital in Ascot, where he works as an engineer.
"While travelling home along the A329 London Road, the tree fell inches in front of him and a car nearby.
"He was incredibly shaken afterwards."
Rail services on South West Trains and CrossCountry were also affected by the conditions with a number of services cancelled until mid-morning.
Some First Great Western Trains services in the Thames Valley were also cancelled.
Due to the overnight conditions and disruption on surrounding roads, Wokingham Borough Council has postponed a planned closure of Sonning Bridge until Tuesday.
Power has been restored to more than 1,000 homes after high winds damaged two connections in Pangbourne.
Engineers reconnected 1,150 properties by about 21:00 GMT on Sunday after people had been without electricity for more than 10 hours.