Elms Field plans council debate prompted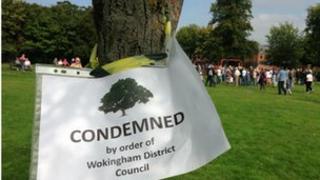 A public debate is to be held about council plans to develop a popular park in Berkshire.
Wokingham Borough Council wants to build homes, a supermarket and a hotel on Elms Field as part of plans to regenerate the town.
A petition of about 2,000 signatures opposing the plans was handed to the council earlier.
Campaigners needed to collect more than 1,500 signatures to trigger the debate, which is due to be held on 4 December.
'Reconsider amount'
Alistair Corrie, executive member for regeneration at the council, said it was "keeping at least 58% of the existing park space" and had "never taken any loss of space lightly".
"However, we have to balance the need for delivering the infrastructure necessary for growth with the need to keep as much open space as possible," he added.
Lib Dem councillor Prue Bray, leading the opposition campaign, said she hoped the council would reconsider the amount of land it proposed to take.
About 400 people attended a protest against the proposals last month and a campaign on social media site Facebook has attracted more than 1,500 members.
The Elms Field debate will be held during a council meeting on 4 December at St Crispin's School.