Richmond Hill roundabout closed as bridge parts replaced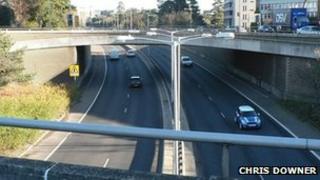 Part of a major Bournemouth roundabout will close for three weeks as parts of its bridge are replaced.
The £230,000 works at Richmond Hill begin at midnight, resulting in the bridge on the east side between the two slip roads, being closed to traffic.
Ian Kalra, transportation services manager for Bournemouth Borough Council, apologised for the disruption but called the works "critical".
It involves fitting new joints and replacing waterproofing.
Drivers are being urged to use alternative routes during the works and signed traffic diversions will be put in place.
The subway will remain open for pedestrians and cyclists.
The council received £100,000 from the Department for Transport Cycle Safety Fund to improve cycle safety at the roundabout.
Michael Filer, cabinet member for transport, said it meant there would be "additional cycle lanes, crossings and traffic calming measures".