Reading Thames pedestrian and cycling bridge approved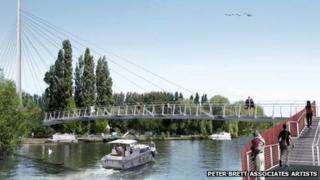 Plans to build a pedestrian and cycling bridge across the River Thames in Reading have been granted.
Councillors approved the plans for a crossing to link Christchurch Meadows with the redeveloped railway station.
Cyclists who objected to the plans, which do not include cycling lanes, said they were "not very happy" and called the bridge a "vanity project".
The bridge will be paid for from a successful £20.7m bid from the Local Sustainable Transport Fund (LSTF).
Form over function?
The steel structure is likely to be painted either white or grey and will sit between the Reading and Caversham bridges.
The Reading Cycling Campaign presented objections at the planning committee meeting on Wednesday night based on research that an increased amount of cyclists would make the crossing unsafe unless segregated lanes were used.
Campaign chairman Adrian Lawson said: "Obviously the bridge will be a good thing, but the problem is going to come when they get a significant increase in the number of cyclists coming over."
He accused the council of wanting a "sleek and iconic" structure over a functional one.
The council did not provide a comment.