Windsor 'horrific' fake taxi rapist Anshul Sharma jailed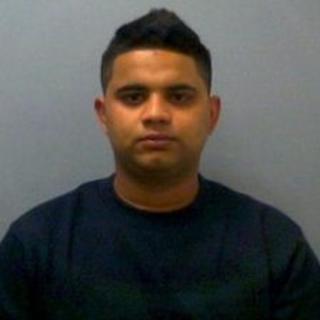 A man who carried out a "horrific" rape on a woman inside a car that she thought was a taxi has been jailed for five years.
Anshul Sharma, of Hencroft Street South, Slough, attacked the 19-year-old in the back of a car being driven through Windsor by his friend in May.
Det Insp Andy Howard called it "the most terrifying 10 minutes of [the victim's] life".
Sharma pleaded guilty and was sentenced at Reading Crown Court on Wednesday.
Police said he approached the victim in William Street after he heard her telling a friend she needed a lift.
He told her he had a taxi and that he could take her to the train station.
But when she got into the back of the car with him he tried to kiss her, and when she tried to get the vehicle to stop she was locked in.
Sharma then pulled her on to his lap and raped her, the court heard.
'Element of planning'
The woman, who is now 20, "struggled violently" and was able to make the car stop by reaching for the driver's door, unlocking the car and enabling her to flee.
Sharma was arrested by police two nights later when he was in William Street again.
Det Insp Andy Howard, who was the investigating officer for Thames Valley Police, said: "This was a horrific attack on a young woman who was enjoying a normal night out with friends.
"At the time Sharma approached her she was trying to arrange a lift from a friend but the friend did not know Windsor and was unable to find her.
"It is clear from CCTV footage that Sharma realised the victim was on her own and purposefully pursued her, trying to engage her in conversation.
"It is also clear that the only reason the victim got into the car was because she believed it was a taxi.
"The offence of rape is always very serious but this incident presented a number of aggravating features: an element of planning, deceit regarding the taxi, the victim being unable to get out of the car and the vulnerability of the victim.
"It is also very concerning that when Sharma was arrested two nights later he was in the same location in Windsor at the same time of night.
"I firmly believe that he was there with the intention of targeting other vulnerable females."
Sharma is in the UK on an expired student visa and is due to be deported at the end of his sentence.
His friend, who was driving the car, was arrested but later released without any further action.