Jackson's in Reading to close by Christmas after 138 years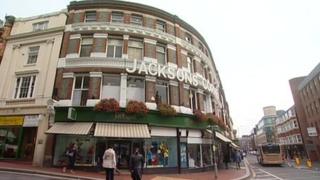 A Berkshire department store is to close by the end of the year after 138 years in business.
Jackson's in Reading was founded in 1875, but the owners said poor sales and costly repairs to a leaking roof were behind the closure.
Managing director Brian Carter said the decision was "terribly sad" but a sale had been agreed in the summer.
The store, on King Street, still uses a system of pneumatic pipes to transport cash around the building.
Mr Carter said many of the 50 staff employed by the store would move to nearby school uniform stockist Stevensons.
'Very sad day'
"The final straw was hearing that the building needs a new roof," he said.
"It's a big expense which we simply cannot afford, added to the fact passing trade is down and other surrounding shops are now empty.
"The pattern of retailing has changed a lot in the last 10 years."
Mr Carter confirmed that the building has been sold to a new owner but was unsure what plans for its future might involve.
Employee Thomas Macey said: "I started working at Jackson's 10 years ago when I was 16.
"It's been like a second home to me and it will be a very sad day to leave it."