Reading council 'not told a dicky-bird' about prison closure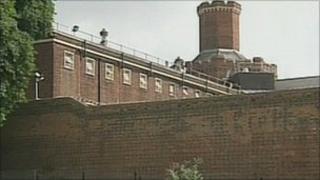 The deputy leader of Reading Borough Council says he has not "heard a dicky-bird" from the government about the closure of the town's prison.
Tony Page criticised prisons minister Jeremy Wright for not consulting with local authorities as "promised", after announcing prison closures last month.
The Ministry of Justice (MoJ) said it had an obligation to make the announcement to parliament first.
A spokesman said the council had been informed after that.
The Grade II-listed jail is scheduled to close on 20 December, under plans by the MoJ to replace four prisons with a super-prison.
'Failed to deliver'
But Mr Page says the Labour-run council has been kept in the dark about what will happen to the young offenders currently housed in the prison, and the staff who work there.
The council is also "concerned" about the future of the Victorian building.
"We've not heard a dicky-bird from any government department," Mr Page said.
"They have failed to deliver on the assurance that Jeremy Wright gave on the radio that they would be engaging in discussions with local authorities."
The council is currently working on plans for "future alternative uses" of the Victorian prison, which was the subject of writer Oscar Wilde's poem The Ballad Of Reading Gaol.
Wilde was sentenced to two years' hard labour after his affair with Alfred Douglas was exposed in 1895.