AWE atomic weapons site leaks tritium gas into stream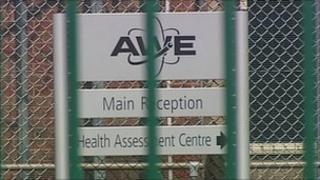 The Atomic Weapons Establishment (AWE) has been criticised for leaking radioactive gas into a stream.
There was an increase in levels of tritium in Aldermaston Stream after AWE turned off a ventilation fan in a radioactive waste storage unit.
The Environment Agency said the low levels of radiation in the stream did not represent an environmental hazard.
However, it said AWE had not adequately assessed the environmental impact of its modifications to the storage unit.
The ventilation fan in the store had been turned off as part of a project to improve the storage conditions within the building.
Tritium gas released from the unit then washed into the stream from surface water caused by rainfall.
Tritium discharges in North Ponds increased over the period November 2012 to March 2013, but returned to previous levels by July and August after AWE turned the ventilation fan back on.
The Environment Agency said there were a number of errors in the "application of AWE's management arrangements", and issued a warning letter and enforcement notice.
AWE said it wanted to "reassure the public there was no need for concern".
In a statement it said: "These heightened levels are still very low and pose no health threat.
"They are very much lower than the World Health Organisation guidance for tritium in drinking water.
"While there is no danger to the public or the environment, we accept there is a need for the company to review some of its processes."
AWE will now review other modifications made on site to see whether the issues raised are more widely systematic at the company.