Philmore Mills death: Relatives yet to see IPCC report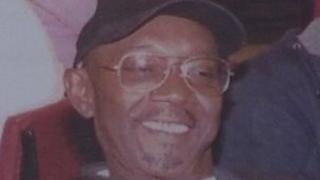 The family of a man who died in police custody while being treated in hospital say they are no closer to finding out what happened to him.
Philmore Mills, 57, was being treated at Wexham Park Hospital in Slough, Berkshire, for pneumonia when he died on 27 December 2011.
The Crown Prosecution Service (CPS) is reviewing a report from the Independent Police Complaints Commission (IPCC).
Daughter Rachel Gumbs says the family has not been allowed to see the report.
Mr Mills's relatives claim he was restrained by hospital security officers and police as he became "erratic and irrational". He died from a heart attack.
The father of three, from Langley, died in the early hours of 27 December after looking like making a good recovery when he was visited on Boxing Day.
Still no answers
The IPCC completed a report into its findings of Mr Mills's death in April.
Having received the initial file of evidence, the CPS asked the IPCC to carry out further inquiries.
In a statement, the CPS said: "The additional material gathered by the IPCC was provided to us earlier this month.
"We are now reviewing the full file of evidence and a decision on whether charges should be brought will be made as soon as practicable.
"We have invited the family to a meeting to update them on our progress."
Ms Gumbs said: "We're a year and four months down the line from my father's death and we still don't have any answers.
"As far as we're aware, the IPCC concluded their investigations at the beginning of this year.
"But, with their conclusion, they decided they needed to refer the case to the CPS.
"We asked why and they said that within their investigations there were allegations of assault made against my father, so it had to be referred to the CPS.
"We met with the CPS in April, we're now in October and we've still had no response from them whatsoever.
"We want to know what really happened. We can all speculate, but we really need to know from the facts they have, what really happened."