Krishnamaya Mabo murder: Glenn Nelson jailed for life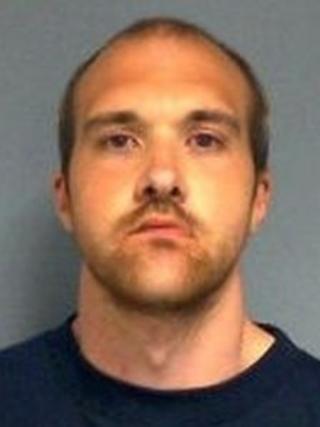 A man has been jailed for life for the murder and attempted rape of a Nepalese woman in Berkshire.
Mother-of-three Krishnamaya Mabo, 39, disappeared after going for a walk near her home in Arborfield on 2 June.
Her body was found the next day by a tree in nearby Long Copse. Post-mortem tests showed she was asphyxiated.
Glenn Nelson, 30, of Eversley Road, Aborfield, pleaded guilty via video link at Reading Crown Court and was ordered to serve at least 25 years.
He was given a six-year concurrent prison sentence for attempted rape.
Mrs Mabo had moved to England about 13 years ago with her husband Thaluman, who was part of The Royal Gurkha Rifles regiment.
He raised the alarm after she failed to return home.
A search of the local area was carried out and a volunteer taking part found her body.
In a statement, Mr Mabo said his wife's killing had led to the toughest months of his life.
"Due to the horrific murder of my wife, life has taken a different path for my family," he said.
"The hardest military training seems so much easier compared to what me and my three children have gone through.
"We were determined to get justice because that's what myself, my father, grandfather, forefather, have been fighting for with our British brothers for the last 300 years until now. We are The Gurkhas.
"In the future I can only hope that in every passing day, we share the memories and live by the morals that were made with my wife and that her radiating way of life projects through us all in everything my family and I do."
'Extremely dangerous'
Det Ch Insp Gill Wootton said: "This was a disturbing stranger incident in which a woman walking on her own was attacked and tragically murdered by a man whose actions were clearly sexually motivated.
"Nelson had already approached a woman earlier the same day and made indecent suggestions and comments towards her.
"Stranger murders like this are an extremely rare occurrence, but when they do happen, they naturally cause a great deal of anxiety and concern.
"Following the discovery of Krishnamaya's body, Nelson was swiftly identified as a suspect and was arrested later the same day.
"When he was interviewed, Nelson initially answered 'no comment' and maintained this position for some time. However he eventually made a full confession.
"Krishnamaya was a loving wife and mother and her untimely death has had a devastating impact on those close to her, including her family, friends and the wider Nepalese community."
Baljit Ubhey OBE, chief crown prosecutor for Thames and Chiltern Crown Prosecution Service, said Mrs Mabo was murdered "just a short distance from her home".
"Mrs Mabo, who had gone out for a walk, had the misfortune to come across Glen Nelson.
"We may never know for sure what happened, or why Nelson murdered Mrs Mabo, but what we do know is that Nelson is an extremely dangerous man."
"We know that nothing will bring Mrs Mabo back to her family, but we hope that today's conviction and sentence brings them at least a small sense that justice has been done."