Reading drugs raids result in 16 arrests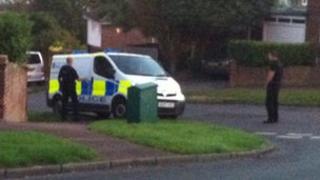 More than 170 police officers have carried out dawn raids across Reading as part of a crackdown on drugs.
Sixteen people were arrested following searches on 22 properties in Reading, Woodley, Earley and Tilehurst, carried out as part of Operation Reginald.
Bundles of notes totalling thousands of pounds and drugs were also seized.
Det Insp Bruce Riddell, of Thames Valley Police, said the raids were the culmination of six months of work by the Serious Organised Crime Unit.
The operation aims to tackle the supply and use of class A drugs.
The co-ordinated raids at 06:30 BST initially yielded 13 arrests but police said more were anticipated in the hours and days ahead.
The 15 men and one woman, all from the Reading area, were arrested on suspicion of supplying drugs.
'A lot of cash'
Speaking on Tuesday morning, local area commander Supt Stuart Greenfield said: "It's a long term operation that has been going on for many months now.
"It's targeted very much at an organised crime group that are plying their trade in supplying class A drugs across Reading and have been for some time.
"We are anticipating a few more arrests, hopefully by the end of today or certainly over the next few days.
"We found a lot of cash and class A drugs as well but it's not all about gathering the evidence at these addresses, it's about arresting people - a lot of the evidence has already been collected."
Officers will be carrying out extra patrols and delivering leaflets in the neighbourhoods where the raids were carried out to reassure residents.