AWE Burghfield protesters blockade road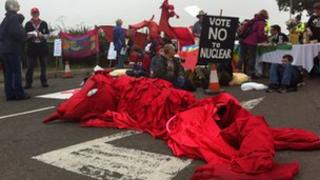 Protestors have staged a demonstration to call for British nuclear disarmament at a site in west Berkshire which builds Trident warheads.
AWE Burghfield makes warheads for the nuclear weapons system carried by Royal Navy submarines.
Around 30 protesters, dressed in costumes, sat and laid in the road, some locked together with chains blocking the gates into the company.
Police said the protest was "peaceful" with no arrests made.
The blockade was held by a group known as the Welsh Dragons, organised by Action AWE (Atomic Weapons Eradication).
Last month 10 protestors were charged with obstruction of a public highway during a rally at the west Berkshire site.