Wokingham council presses on despite Elms Field protest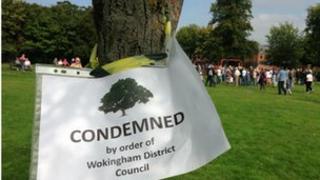 Wokingham councillors say they are sticking to their plans to build on a popular park in the town centre despite a campaign by residents.
More than 400 people turned out on Sunday to protest against plans to build homes, a supermarket and a hotel on Elms Field.
The development will nearly halve open space at the park.
Wokingham councillor Alistair Corrie says developing the park is the only way to regenerate the town.
Town will 'die'
The council says following the development, the park will include a bigger and better play area, and a larger events field.
It said at present the park is fragmented, cut off from the town centre and is not well used.
Mr Corrie said if the park was not built on, the town would "continue to die".
"I don't like the idea of ripping up trees or building on green space ... but I've come up with the view that we need to regenerate," he said.
"I do accept that most people will find this very unpopular".
Wokingham council says it will plant more trees as part of the regeneration.
Wokingham resident Wayne Barron has led a campaign on social media site Facebook against the plans, which has attracted 1,500 members.
He said: "We don't need a supermarket and we don't need a hotel.
"Elms Field is a fantastic open space for the community."
The multi-million pound regeneration of Wokingham town centre also includes refurbishing Peach Place, upgrading the town hall and re-cladding buildings on Broad Street and Rose Street.