The Wrong Mans: Does Bracknell have a big future?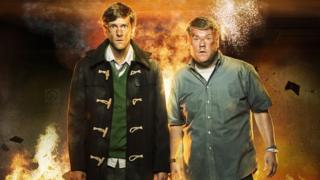 BBC Two comedy series The Wrong Mans features a character tasked with regenerating the often unloved town of Bracknell. But could the show actually help the Berkshire town overcome its image problem?
"If you like James Cracknell. You'll love Bracknell."
Perhaps not the slogan the town planning officers had in mind when devising its regeneration, but one that features in The Wrong Mans.
While James Corden and Mathew Baynton's creation is a work of fiction, it does touch on an element of reality.
Sam Pinkett, Baynton's lead character in the six-part series, is a town planning and noise guidance adviser for Berkshire County Council. He is part of a team overseeing the rebranding of Bracknell to tie in with a new development.
'Short term pain'
While Berkshire County Council may not have existed as a local authority since 1998, Bracknell's regeneration is very much of the moment.
Work began in August to demolish a third of the town centre and replace its "Brutalist" architecture with a more modern look. The move has been described by academics as "short term pain for long term gain".
'Changing the perception'
In a scene from the first episode of the series, Sam Pinkett is tasked with creating the slogan for the regenerated Bracknell.
His suggestions include: "Bracknell's Dead. Long Live Bracknell" and "Bracknell's back on track, y'all".
He then decides to tie in one of Berkshire's famous Olympians with the slogan: "If you like James Cracknell, you'll love Bracknell."
The rower tweeted his delight at being mentioned in the show, saying it was an improvement on the playground taunt of "James Cracknell smells of mackerel".
But Sam finally cracks his slogan conundrum in the second episode, when he coins the phrase: "Bracknell: Small Town, Big Future".
But what do the real team tasked with regenerating Bracknell make of it?
Although the series is actually filmed in Surrey, Helen Barnett, from the Bracknell Regeneration Partnership, believes the show could change the town's image.
"The town is in the throes of a major regeneration, so it is not so much RIP Bracknell, but more welcome to the new Bracknell," she said.
"Part of our job is changing the perception the town has with people who don't live there.
"Hopefully people like James Corden can help make that happen."
But, why choose Bracknell as the home of lead characters Sam and Phil?
"Without giving too much away, later in the series it's important geographically where it's set in terms of the plot," said Baynton.
"But also, we wanted it to be one of those pleasant, small towns where people lead relatively comfortable, quiet lives. It's very important to the contrast of all of this awful, criminal action that descends upon them, that these guys (Sam and Phil) are not prepared for it."
Corden added: "We wanted it to be close enough to London, so that if you felt the characters had to go in to the city at any time, that wasn't a million miles away. But, by the same token, we wanted to set it in the South, as that's where Mat and I are both from.
"Lots of my friends live in Berkshire, my sister lives in Reading and I grew up nearby in Buckinghamshire. It's an area I know quite well and Bracknell was just circumstantial really. We just sort of put a pin in a map and decided it was going to be where we'd set it."
The Wrong Mans is on BBC Two at 9pm on Tuesdays until 29 October.