King's Meadow Baths spa proposal voted preferred option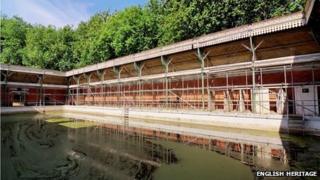 A £3m spa complex is the preferred choice for renovation of a Grade II lido in Reading that has been closed since 1974.
More than £1.5m was needed to renovate the 1902 lido, but the council said it did not have the money and put a 250-year lease out to tender.
On Monday Reading council decided on the spa option for King's Meadow Baths out of five bids.
Rejected ideas included turning the baths into a temporary ice rink.
Last year, English Heritage said the Grade II-listed building was "at risk" and called for it to be saved.
Community group the King's Meadow Campaign has been fundraising to renovate the lido.
But in two years the group could only raise £10,000, after accusing the council of failing to support its bids for grants.
Trustee Richard Jessel said he hoped it would remain a "community pool".
Councillor Jo Lovelock, leader of the council, said the council would need more detail on how the spa plans would impact on parkland surrounding the lido and on whether the pool would be made affordable for local residents to use.
Arne Ringner, from the Glass Boat Company that is behind the spa plan, said it was "exciting".
"There's a long road ahead but there's so much willing because we have the experience, we have the people and we have the money, so we're not going to start a long process now of fundraising," he said.
Construction could start next spring, subject to planning consent, according to Mr Ringner.