Wokingham school mural from 1950s repainted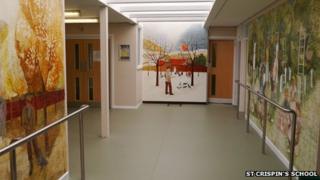 A school mural depicting life in the 1950s which was painted over more than 30 years ago has been uncovered and repainted.
A total of three 8ft (2.4m) high murals were painted in St Crispin's School in Wokingham, Berkshire, when it was built but were painted over in the 1970s.
Two were restored but a third, "Winter", was badly damaged and has now been repainted by artist Saskia Huning.
Robin Cops, from the school, described the restored mural as "a triumph".
The original murals, depicting three of the four seasons, were painted by artist Fred Millett when the school was built in 1953.
The building was one of the first constructed as a prototype development school by the Ministry of Education after World War II.
Fred Millett, who also designed posters for London Transport, was commissioned to paint the scenes in the then rural school, where students were taught agricultural skills.
'Integral to school'
The murals were later painted over when the school became a comprehensive.
"Summer" and "Autumn" were uncovered under layers of gloss paint and restored last year.
Because of the type of paint used to cover "Winter", professionals said it could not be revealed without destroying the artwork beneath, so the decision was taken to paint it again.
Mr Cops said: "They were integral to the school - the idea was to stimulate students inside with brightly-coloured walls. We've got that back, it's a real triumph and it looks fantastic."
The restoration project was funded by donations from the Wokingham Society and a former student.