Littlecote House war memorial unveiled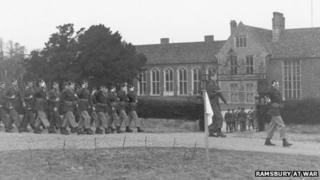 A memorial to British and US soldiers stationed at a Berkshire Elizabethan country house during World War II has been unveiled.
Servicemen from the US 101st Airborne Division, known as "The Band of Brothers", were based at Littlecote House near Hungerford.
A memorial plaque was unveiled in the grounds of the house which is now a hotel.
Members of the Royal British Legion raised £2,500 for the memorial.
Among the seven British units which were also based at Littlecote House was 48 South Midlands Division - a Territorial Army unit in the British Expeditionary Force which had been forced to retreat from Dunkirk in 1940.
The memorial plaque is on a 6ft (1.8m) high memorial stone which is placed on the house's lawn.
The house, alongside the River Kennet, dates from the late 15th Century and was requisitioned for military use in 1943.
Military training was carried out around nearby Ramsbury village ahead of the June 1944 D-day invasion of Normandy.