Queen's Coronation arch opens in Windsor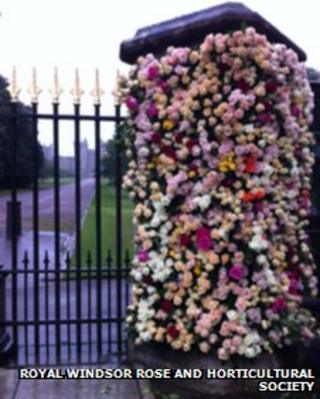 An archway decorated with 4,000 roses has been installed near Windsor Castle.
The floral arch is part of a six-piece 9m (30ft) willow walkway planted on the Long Walk in Windsor Great Park to mark 60 years since the Queen's Coronation.
The display, which also features six crowns at Cambridge Gate, is expected to remain in place until early October.
The idea for the project came from the chairman of the Royal Windsor Rose and Horticultural Society who wrote to the Queen, its patron, to seek permission.
The six arches and crowns containing wildflowers, one for each decade, were woven on a local farm before being assembled in front of the royal residence.
Once the display is dismantled, the society plans to sell the arches and crowns. Proceeds will go into its legacy fund, a bursary to sponsor young gardeners through horticultural college every year for the next 60 years.
The project is a collaboration between the Royal Windsor Rose and Horticultural Society, the Windsor and Eton Town Partnership and the Royal Borough of Windsor and Maidenhead.