Greenham Common control tower could become museum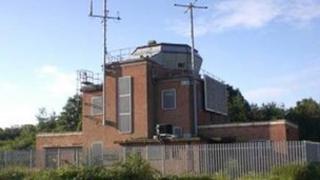 A Cold War airbase control centre could house a museum and viewing gallery if a community bid is accepted.
The tower on the edge of Greenham Common in Berkshire has been disused since the base closed in 1993.
Greenham Parish Council has submitted a bid to West Berkshire Council which hopes to sell the the tower, to take it over as a community asset.
Councillor Julian Swift-Hook said, if successful, the bid represented the "best result" for the tower.
Last year the parish council nominated the tower and surrounding land as an Asset of Community Value under the government's Community Right to Bid programme.
It meant West Berkshire Council had to place a six-month moratorium on the sale to allow community groups time to put together a bid.
'Community value'
Greenham Parish Council, along with local history and nature groups, has outlined plans for the tower including an interpretive visitors' centre, cafe and public toilets as well as providing a viewing gallery looking out over the common.
Mr Swift-Hook said their application was "not a huge financial bid" but was "a superb example of the community working together to secure the best result for the tower".
"We know we can deliver huge community value, and you simply can't count that in pound coins," he said.
He said the groups had "made progress" in submitting grant applications to fund their plans.
Built in the early 1950s, the tower helped the base play a strategic role in the cold war.
The base was the focus for anti-nuclear protests when US cruise missiles were located there in the 1980s.
Following the airbase's closure, Greenham Common became a public open space in 2000 and is now home to a nature reserve and business park.