Dog mess flagged up in The Brocas field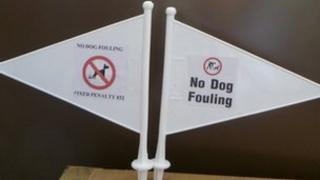 Plastic flags are being stuck into dog mess to highlight the problem of owners who fail to pick up after their pets.
From Tuesday, wardens patrolling The Brocas field, owned by Eton College, will plant the white flags in piles of dog mess to publicise the £52 fines irresponsible owners can face.
They will also hand out information leaflets and poop scoop bags.
The Brocas is popular with dog walkers, picnickers and pleasure boaters due to its views of nearby Windsor Castle.
Royal Borough of Windsor and Maidenhead councillor Carwyn Cox said he hoped tackling the dog mess would make a "real difference".
"We know the majority of dog owners are fed up with the minority giving all dog owners a bad name," he said.
He said the council's community wardens were working with the Eton Community Association and Eton Town Council to reduce dog mess in the area.