Skype consultations the future of doctors surgeries?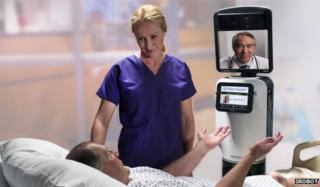 Hospital appointments can be a daunting experience, especially ones leading to surgery.
Interpreting the intricacies of an operation can be difficult for both surgeon and patient along with the inconvenience of travelling to and from hospital for the procedure or a consultation.
In the video chat revolution, a solution may see the surgery come into a patient's front room through video conferencing.
Internet programs like Skype, Apple's Facetime and Google Hangouts are some of those medical professionals are keen to bring into consultation rooms.
'Virtual finger'
A practice of Windsor urological surgeons, keen to develop internet video consultations, have started discussing the idea with their local NHS Trust.
Consultant urological surgeon Marc Laniado performs the majority of his procedures at Heatherwood and Wexham Park Hospital in nearby Slough.
He said: "The advances and developments in the quality of images we receive from scans mean we now have a 'virtual finger' on the patient.
"Video consultations can cut down referral times, reduce the distance patients have to travel both pre and post operation and can even get GPs and surgeons online at the same time with the patient.
"People are increasingly willing to travel long distances for their surgery, so it's an opportunity to give something back."
But could such a move jeopardise patient confidentiality?
"From a technology point of view, the idea is relatively straightforward," said internet security expert Tom Cheesewright.
He added: "Practically, it makes huge sense. About 80% of the UK now have high-speed internet coverage and sitting at home in front of a computer or tablet sounds more attractive than sitting in a hospital waiting room.
"If you're trying to make use of one of your most expensive assets and of building space, fewer people passing in and out of waiting rooms and surgeries has to be an attractive move.
"In terms of security, any system would probably need some sort of verification software so it could be only be accessed by approved surgeons and consultants."
'Technologically literate'
Katherine Murphy, chief executive of the Patients Association, believes the idea could increase engagement between patients and GPs, but also has concerns.
She said: "Any advancements in technology are to be welcomed.
"However, it's vital the rush for innovation doesn't leave those patients, of any age behind if they are not technologically literate.
"No doubt future GPs will embrace technology, but the old fashioned one-on-one consultation will still be the core of their work."
In the USA, a team of researchers from the Massachusetts Institute of Technology are working with the company iRobot on a regulator-approved machine that glides through hospital corridors letting medics call in on patients based in other buildings.
Mr Laniado has also performed a private procedure that was broadcast live over the internet to consultants in the US.
He added: "We're now in an era where you can teach surgical procedures down the line to students in other hospitals.
"Quite rightly, there are concerns at the moment about protecting patient confidentiality through Skype-style consultations, but my feeling is it will happen soon.
"The question that remains is what kind of setting it will be used in."