Reading swimmer to sing across the Solent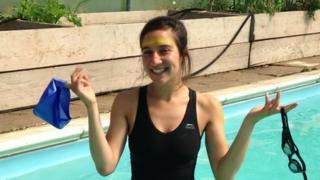 A woman from Reading will be attempting to sing while swimming across the Solent in aid of cancer research.
Sara Zaltash, 28, has penned a 100-verse ballad to sing while crossing the 1.3 mile (2km) stretch of water from Hampshire to the Isle of Wight.
The performance artist will also wear a head camera to film her challenge to show at arts festivals.
Ms Zaltash said of her training: "I did get an awful lot of water in my mouth, but that is just par for the course."
She has been training since 1 June for the challenge on 5 September, when she will swim from Hurst Castle in Hampshire to Colwell Bay on the Isle of Wight.
"All of my artwork is song-based and singing in unusual situations is part of them," she said.
The idea to swim while singing came when she read about the annual sponsored swim organised by Bestival, a music festival on the island.
She is raising money for Cancer Research UK after losing an aunt and friends to the illness.
Donations have come from as far away as India and, while she is confident about the swimming, the simultaneous singing is what she will be working on for the rest of the week.
"It's a challenge," she said, "but life is a challenge".