Cockroach 'harassment' at Cookham's Teapot cafe investigated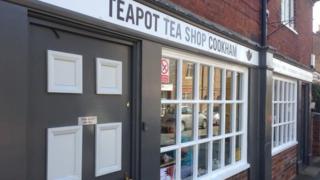 The owners of a small village tea shop who had dozens of cockroaches posted through their letterbox could be the victims of harassment, police say.
About 50 of the insects, believed to be Madagascar hissing cockroaches, were found at the newly opened Teapot cafe in the Berkshire village of Cookham.
Diane Bryant, one of the owners, said she was shocked and started shaking when she made the scurrying discovery.
It has been described as an "unusual incident" by Thames Valley Police.
'Something untoward'
Ms Bryant said she started sweeping up "a load" of the bugs, which were about 1.5in (4cm) long, before realising what they were.
"The letter box was wide open and on the floor there were a few of these dead insects," she told the BBC.
"That's when I realised that something had happened that was a bit untoward.
"I think when I realised they were cockroaches and they had been posted through the letter box, that's when the squeamish bit came in.
"It was very shocking and I started shaking."
The Teapot cafe was forced to close for the day after the unexpected delivery on 15 August - just a few days after it opened.
It is now trading as normal but Ms Bryant said she had no idea why it had happened - or who was responsible.
She said it had been an "unsettling" time, which had put a "dampener" on what should have been her dream of opening a tea shop.
Officers said they were treating the incident as suspected harassment and are appealing for anyone who may have seen anything on 15 August to come forward.