LaplandUK Christmas attraction is given the go-ahead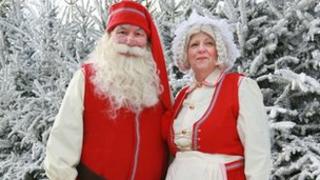 A Christmas-themed attraction in Berkshire has been given the go-ahead despite concerns over traffic levels.
LaplandUK's application for a three-year temporary licence to trade at Whitmore Bog was approved by Bracknell Forest Council.
Neighbouring Royal Borough of Windsor and Maidenhead Council had raised concerns about the site's location.
The company said it will employ 250 new staff and inject £3m into the local economy.
Nearly 300 objections were received along with a 47-signature petition raising concerns over traffic congestion, health and safety and the impact on the environment.
Windsor and Maidenhead council, which is next to the site, said it would coincide with other busy events in the calendar, such as Ascot Christmas races.
LaplandUK insisted organised tours and pre-purchased tickets would avoid a mass influx of visitors.
More than 400 submissions were sent in support of the plan.
The attraction is due to operate between 30 November and Christmas Eve this year and between 21 November and Christmas Eve in 2014 and 2015.
All buildings and facilities would be removed from the site in the intervening periods.