Reading Festival police tackle dealers instead of users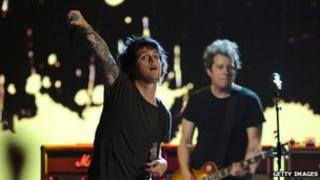 Police are targeting drug dealers rather than users at Reading Festival in a bid to "tackle the cause rather than the symptoms".
Supt Stuart Greenfield said people caught with small quantities of class B or C drugs would be asked to dispose of them in an honesty bin.
Organisers will then decide whether they are allowed entry to the festival.
Eight people have been arrested on suspicion of drug offences since the site opened.
Random searches
Four men aged 24 and three men aged 20, 23 and 28 were arrested on suspicion of possession of class A and B drugs.
An 18-year-old man was arrested on suspicious of possession with intent to supply.
All eight men are in custody.
The three-day festival at Richmond Avenue starts on Friday but the site opened to some campers on Wednesday.
Supt Greenfield, who is in charge of the policing operation, said: "It's a condition of entry to the festival site for ticket buyers that they submit to random searches.
"If they are found in possession of drugs, if it's a small bit of class B or C, cannabis for example, they are asked to dispose of it in an honesty bin, then Festival Republic will decide whether or not to admit that person.
"If it's a larger quantity or it's suspected to be class A the police will be called and we will deal with those people as appropriate."
Psychologists and medics are on site to help festival-goers.
Supt Greenfield added: "We can have a much greater effect if we go after the suppliers and the dealers rather than users because actually if you cut it off you are tackling the cause rather than the symptoms then."
A total of 139 crimes were reported at last year's Reading Festival, which marked a 40% drop from the 231 reported the previous year.
Headliners at the sold-out festival, which ends on Sunday, include Eminem, Green Day and Biffy Clyro.